Challenge Seventeen: The Mail Station
So we don't really do mail stations. With me, my husband, and my father in law living with us we just take our mail go through it right away and then put all of fil's in a pile for him to do his part. This is his pile right now (keep in mind he went through this last weekend):
I pay all of our bills online and keep it all dated and everything right here:
It's color coded and pretty. (I have a thing for calendars.)
We do however have a to file area. It's here:
So I went ahead and did that so it could be pretty again. Here is our file box, already nice and organized (I promise it is, it just doesn't photograph well!).
All better!
If you want to join me, click on the link below!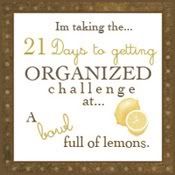 This post was featured here: