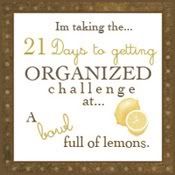 There are several challenges going on this month. Two weeks ago my husband started whining that he missed
Flylady
, and then I was sitting around flipping through channels and got stuck in a
Hoarders
marathon. With sweaty palms and small heart palpitations, I got us back on track using our nifty
cozi
calendar to help keep schedules in line and let everyone know what the day's activity is.
My son loves doing what I call a "round-robin" with our house. We spend 7 minutes in each room with two 7 minute breaks (takes a little less than an hour). We did this last Thursday then again on Saturday (I was by myself for this on Friday). Sunday I spent most of the day sleeping and being really lazy because it was time to relax. So now, I'm putting us in this 21 day challenge at
A Bowl Full of Lemons
who is someone I just started following.
I realize looking back through my blog that I ceased blogging when I stopped keeping up with the house. I think there is a direct correlation between the two. Plus my husband has said it is mandatory I clean my craft area (since it just expanded) and blog more.
So besides becoming more organized (which is number one on my resolutions list), this year I want to:
Learn to sew. I was given a sewing machine for Christmas back in 2009 and have yet to even thread the machine. Mainly, because I'm terrified I will break it. Secondly, because I can't cut a straight line so what makes me think I can sew one?
Pray more. Mostly I want to pray more as a couple. I pray by myself pretty often, but never with anyone. We pray as a family sporadically. I want this to be something we are intentional and regimented about.
This isn't on any of the lists so far, but the first thing I'm doing to start getting more organized is by getting all the images off of the two memory cards I've filled up since oh November. It's going to take a while, I know but it will be so worth it!